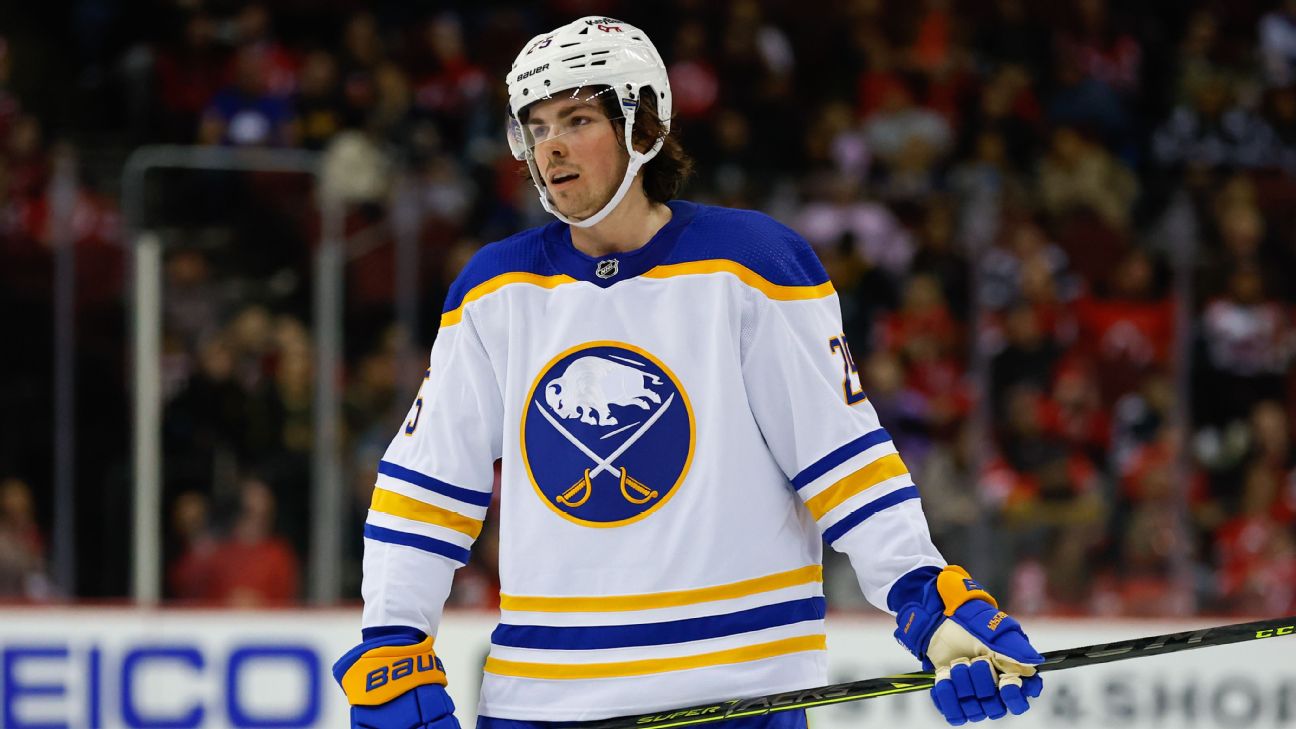 7:00 AM ET
Predicting that New Jersey Devils center Jack Hughes would be a breakout player last season was about as bold as forecasting that a dog would win best in show from the Westminster Kennel Club.
Sometimes, the signs are just obvious that it's time for an NHL player's glow-up.
In 2020-21, his second NHL season, Hughes worked hard to add size, shoot the puck more often and even changed the curvature of his stick. His sophomore success suggested that 2021-22 would be his breakout. "I think for players like Jack, it's like dog years. That's how much he learned: How good defensemen are, how they take space away," Devils GM Tom Fitzgerald said at the time.
Last season, he proved those predictions accurate: 56 points in 49 games, in a season cut short by injury. A star was born, literally: Hughes played in the 2022 NHL All-Star Game, the first of his career.
Every NHL season, there are players bubbling under the surface ready to pop. Rookies who level up in their second seasons. Supporting cast members given a larger spotlight. Solid contributors who, through offseason additions or subtractions, find themselves with a promising new role.
Here are 25 players who are primed for breakout campaigns in the 2022-23 NHL season, placed into handy tiers.
Jump to a tier:
New scenery
New linemates
Young star to major star
The wait is over
Tier 1: New scenery
These players switched teams and could see their stock rise with new scenery.
After career highs in goals (28) and points (57) in 80 games last season, Bjorkstrand had his cap hit shipped out to Seattle while Columbus inked free agent prize Johnny Gaudreau. He has shown incremental improvement each season while maintaining his status as an analytics darling.
The Kraken didn't really have a breakout offensive player in their inaugural season but should be a better-scoring team with an influx of young and veteran talent. With top-line minutes, Bjorkstrand could see the spotlight shine more intensely on his impressive game.
The venerable Scotty Bowman told Montreal Hockey Now that the Chicago Blackhawks jettisoned Dach due to a lack of faceoff success and a failure to play to the team's identity — or at least what the identity was before it became "lose at all costs."
He's a prospect badly in need of a change in scenery. There are things Dach already excels at, such as passes that set up linemates' scoring chances and defensive zone puck retrieval. There are certainly areas for improvement. With the right linemates, could he find his game in Montreal? The Canadiens brought him in for that potential.
Perhaps the most obvious candidate to level up in the NHL. The 26-year-old found himself sitting behind Henrik Lundqvist and Igor Shesterkin with the New York Rangers during his five-year NHL career. Now he'll share the crease for the defending Stanley Cup champions with Pavel Francouz.
He's like a backup quarterback who takes over a Super Bowl-winning offense that returns all of its talent. He's in the best position to succeed. All he has to do is hold up his end of the bargain and fulfill the promise he showed as a backup in New York.
When Myers was acquired in the Ryan McDonagh trade with the Nashville Predators, many people started mashing contract buyout calculator buttons. But GM Julien BriseBois said Myers was in his plans for next season and signed the 25-year-old to a one-year contract extension.
There's a lot of raw material the Lightning can work with here: a 6-foot-5 frame, a great shot and skating that can still improve. Logic dictates that Cal Foote will get the post-Jan Rutta spot next to Victor Hedman, but don't discount Myers if he has a strong camp. (Sidebar: Would Myers-Hedman be the tallest defensive pairing in NHL history?)
Last season marked the first time that Samsonov appeared in the majority of the Washington Capitals' games. It also produced the worst numbers of his three-season NHL career, including an .896 save percentage and minus-2.8 goals saved above replacement. The Capitals grew tired of waiting for the 2015 first-round pick to blossom, so they walked away from the restricted free agent and signed Darcy Kuemper.
Samsonov signed with the Leafs for one year and $1.8 million, joining a slightly stronger 5-on-5 defensive team analytically. If Matt Murray can't find his groove, it could be Samsonov's crease and his time to shine.
Smith was briefly considered to be part of the Devils' foundation for the future after a strong rookie season that saw him finish seventh in voting for the Calder Trophy. But his sophomore struggles saw his ice time drop by 2:37 per game on average, and the Devils shipped him to Pittsburgh for John Marino.
The Penguins have a glut of defensemen. Where Smith fits into that puzzle should be determined in camp. He's got offensive upside and will be under the tutelage of associate coach Todd Reirden, who has developed his share of defensemen for the Penguins.
Tier 2: New linemates
These players could thrive with new linemates; or, in one case, a new coach.
Question: Which player ranks third among forwards in goals per 60 minutes over the past three regular seasons? The answer is Ross Colton, the Lightning forward who averages 1.45 goals per 60 minutes at 5-on-5 in 109 games, trailing only Auston Matthews (1.79) and Jakub Vrana (1.59).
There could be some opportunity in the Lightning's top six with Ondrej Palat signing with the Devils this summer. Colton has built an interesting case to earn a great opportunity — beyond his playoff heroics.
The 21-year-old winger had a better defensive season than offensive campaign as a rookie for the Kings, although 14 goals and 13 assists playing on an "energy line" was promising.
If his shooting percentage jumps from an ordinary 7.2% last season, he could have a significant offensive impact down the lineup — especially if he graduates from playing with Blake Lizotte to seeing time with more offensively impactful players.
With Nazem Kadri taking his talents to Calgary, the Stanley Cup champions will need a center to play behind Nathan MacKinnon on the depth chart. J.T. Compher filled that role at times during the playoffs when Kadri was out of the lineup, but it has been anticipated that the 21-year-old Newhook would anchor the Avalanche's second line in the near future.
Besides being a cost-effective solution still playing on his entry-level deal, Newhook also showed offensive pop as a rookie with 33 points in 71 games.
Mercer had 42 points in 82 games for the Devils as a rookie last season and exhibited some impressive versatility. He moved up to take the place of Jack Hughes on a line with Jesper Bratt when Hughes was injured and produced as a center. When Hughes returned, Mercer eventually moved onto his line as a right wing, playing opposite Yegor Sharangovich.
Putting him back into the top six would allow Mercer to build on his traditional stats while hopefully improving on some underwhelming underlying numbers, especially on defense.
McMichael spent most of his rookie season on the wing, generating 18 points in 68 games for the Capitals. The expectation is that the center will see more time at his natural position this season. His breakout depends on how their depth chart shakes out in the middle. Evgeny Kuznetsov holds down the top center spot, but the Capitals will be without Nicklas Backstrom, who is on long-term injured reserve. They added Dylan Strome and have veteran Lars Eller back.
If McMichael earns a chance to skate in Backstrom's place on the second line, that could fuel his leveling up.
Sillinger had 31 points in 71 games for the Blue Jackets last season, although he defended about as well as you'd expect an 18-year-old rookie would. He should see an uptick in his 13:42 of ice time per game, but there's a real chance for Sillinger to move up the depth chart in Columbus.
He has Boone Jenner, Jack Roslovic and Sean Kuraly with him on the depth chart. He had a cup of coffee playing with Patrik Laine last season; with a strong sophomore effort, could Sillinger see time with Johnny Gaudreau on Columbus's top line this season?

Lane Lambert takes over for Barry Trotz as Islanders head coach after serving as Trotz's assistant coach for the past decade. How he'll differ from Trotz is a bit of a mystery, and no one is more curious about the differences than Wahlstrom.
The 22-year-old forward is entering his third season as an NHL regular. While Trotz gave him some power-play time in his 73 games, he averaged just 10:35 per game at even strength. Will Lambert bump him up the depth chart?
Tier 3: Young star to major star
You might already know these names. Get ready to hear them a lot more.
The 21-year-old winger announced his arrival in the NHL with 15 goals and 24 assists in 47 games for the Wild as a rookie. He should see an increase on his 15:23 average ice time from last season, perhaps as a second-line winger for center Joel Eriksson Ek.
It's an admittedly small sample size, but there was a lot to love from Boldy's finishing ability and playmaking in Year 1.
Bouchard's 43 points in 81 games last season, his first full NHL campaign, could be called a breakout for the 22-year-old blueliner. But he posted those numbers while playing the fourth-most even-strength ice time (16:49) among Oilers defensemen and without the benefit of playing with their incendiary top power-play unit.
He has an even higher ceiling offensively while his defense will improve with experience.
Caufield's rookie season was a disaster through 30 games. He had one goal and seven assists. He was demoted to the AHL. Then Martin St. Louis was hired as the team's interim head coach; all the 5-foot-6 Caufield needed was a small king to lead him.
After St. Louis was hired, Caufield had 22 goals and 13 assists in 37 games, seeing his ice time crest over the 20-minute mark for the first time. It's assumed he starts on the top line this season, hopefully to deliver on the promise of that run.
Drysdale projected to be a productive offensive defenseman in the NHL and delivered on that last season for the Ducks. He posted 32 points in 81 games last season, averaging 19:53 in ice time per game.
But like so many young scoring blueliners, he struggled defensively — the Ducks had 2.73 expected goals against per 60 minutes when he was on the ice. Young players mature, and Drysdale should become a more well-rounded player as he does.
Jarvis burst onto the scene with 40 points in 68 games for the Hurricanes, and then followed that with eight points in 14 playoff games. Yet that didn't really move the needle on league-wide acknowledgement for the Hurricanes forward, who received one fourth-place and two fifth-place votes for the Calder.
He's a total package player with solid finishing ability that resulted in 17 goals. Give him a full season with Andrei Svechnikov and Sebastian Aho and watch him go.
It's not exactly difficult to follow this trend line for the third overall pick in 2020. He went from 2.1 points per 60 minutes as a rookie to 2.4 points per 60 last season. His percentage of shot attempts rose from 53% to 57%. He earned an increase in ice time from 15:44 in Year 1 to 18:25 last season.
His defensive metrics improved year over year, but the Senators are still waiting for his offensive breakout. Perhaps their offseason infusion of talent in Claude Giroux and Alex DeBrincat will spark that.
Tier 4: The wait is over
Players we've been waiting to break out who finally will.
Beniers played 10 games for the Kraken last season and generated nine points in those games. His poise, his ability on both ends of the ice, his college and Olympic experience … it all adds up to the 19-year-old potentially getting a top-line look from Seattle.
Preseason projections have him as a Calder Trophy candidate, and those could very well be spot-on.
Two words: "stay" and "healthy."
When Byram has played, he has been outstanding, including a 20-game run in the Avalanche's Stanley Cup championship journey in which he led the playoffs with a plus-15. He missed most of the 2021-22 regular season battling back from concussion symptoms. His skating is elite, his puckhandling is strong and he can grow into the kind of shutdown defenseman many project he'll become. Get ready for a one-two punch of Cale Makar and Bowen Byram for the next several seasons.
This will be the third season in the NHL for the first overall pick in 2020, and it could be the campaign in which Alexis Lafreniere finally arrives.
He had flashes of brilliance in the Stanley Cup playoffs with the Rangers' "Kid Line." His playmaking and special-teams play need improvement, but his overall offensive numbers improved year over year, while his shooting percentage remained consistent. He can handle himself defensively and has a strong compete level.
Ultimately, his breakout season depends on coach Gerard Gallant's deployment — like potentially playing on his off-wing on the top line?
There are reasons to believe Podkolzin is going to avoid a sophomore slump after posting 14 goals in 79 games despite limited ice time (12:48).
He's more comfortable in the NHL. He's more comfortable in Vancouver, thanks to the arrival of a couple of new Russian teammates. He competes hard and can play a physical brand of hockey. While locking down a top-six role is ultimately going to be up to coach Bruce Boudreau, Podkolzin could force the issue.
Finding a 6-foot-6 defenseman who skates like Owen Power is near impossible, which is why he ended up as the top pick in the 2021 draft. At 19 years old, he's an NHL-ready prospect who is going to see massive minutes and responsibility in Buffalo this season.
There's been nothing to indicate he won't be up to the task. If he meets the challenge, Power could become the third defenseman in four seasons to win the Calder Trophy.
The 21-year-old forward had a solid debut season for the Predators with 32 points in 76 games, making the most of limited ice time (11:32). Depending on what happens at camp, he could find himself among their top six forwards.
Nashville got a taste of that last season when Tomasino played well in a brief stint with Ryan Johansen and Filip Forsberg. If he earns more ice time, his numbers could spike.
Source: ESPN NHL