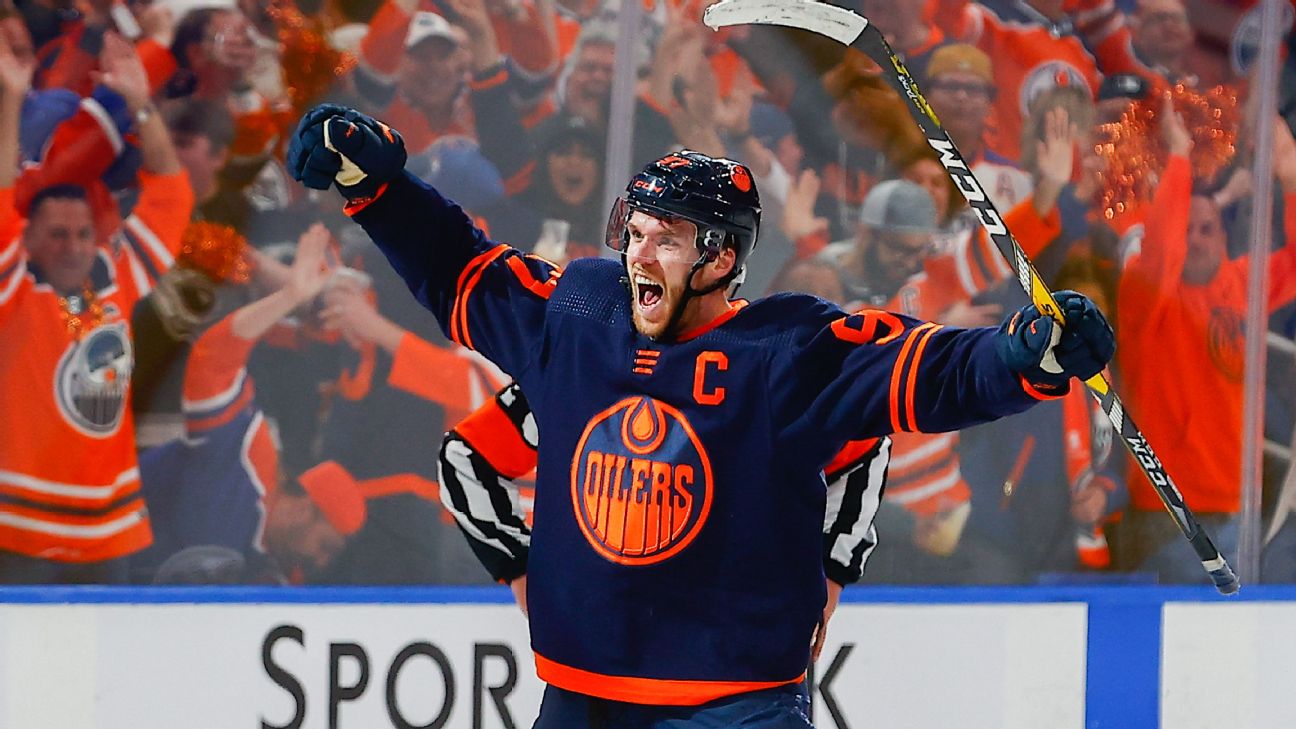 7:00 AM ET
Everything you're about to read is going to happen in the NHL this season.
OK, most of it will. Some of it? At the very least, the thing about the Leafs. Probably.
In my first column of the 2022-23 NHL season, I've made 32 bold predictions, one for each NHL team. They range from statistical achievements to potential trades to coach firings to Stanley Cup playoffs prognostications. (Although, legally, I'm allowed to change my Cup picks up until faceoff on opening night.)
Enjoy, and welcome back, hockey!
Jump to a team:
ANA | ARI | BOS | BUF
CGY | CAR | CHI | COL
CBJ | DAL | DET | EDM
FLA | LA | MIN | MTL
NSH | NJ | NYI | NYR
OTT | PHI | PIT | SJ
SEA | STL | TB | TOR
VAN | VGK | WSH | WPG
Atlantic Division
Jim Montgomery will be a Jack Adams finalist
Montgomery is getting another crack at an NHL head-coaching job after a situation in Dallas that cost him his gig and led him to check into an alcohol rehab program.
The first-year Bruins coach could be pushed to the moon by the NHL broadcasters that vote for this award. The recipe is there if things fall a certain way: Overcoming early-season injuries, contending in a season when some are predicting their demise, improving their defense (2.66 goals-against average) and offense (3.09 goals per game) year over year.
Peyton Krebs becomes the new Tage Thompson
I don't mean that Krebs is going to score 68 points in 78 games and earn a seven-year, $50 million contract extension from the Sabres. Although that would be nice for all parties, obviously.
No, I mean the Sabres and coach Don Granato smartly moved Thompson from the wing to the middle, and it was suddenly his time to shine. I think they move Krebs from the middle to the wing this season — perhaps flanking Dylan Cozens? — and he takes off statistically. So maybe a reverse-Tage then, going center to wing. A "rein-Tage-ment" of sorts.
Moritz Seider will be a Norris Trophy finalist
Seider wouldn't be the first defenseman to win the Calder Trophy one season and then end up as a Norris finalist as a sophomore — hello, Cale Makar. I think Seider is well positioned to be the next one if the Red Wings make their expected leap in quality as a team. He averaged more than 23 minutes of ice time per game and played in all 82 contests last season. He posted 50 points on the 25th-best offensive team in in the NHL.
He's already on the voters' radar; if his underlying defensive numbers at 5-on-5 and on the penalty kill improve, he'll have the stat geek support too.
The Panthers drop at least 20 points in the standings
Last season was a perfect storm for the Panthers. The leaguewide offensive spike, which occurred for many reasons, played to the strengths of their style and roster. Interim coach Andrew Brunette knew how to maintain the vibe after Joel Quenneville resigned. They received an MVP-level season from Jonathan Huberdeau. They feasted on the bottom of the Atlantic Division, going 14-2-0 against Buffalo, Detroit, Ottawa and Montreal.
These conditions won't necessarily repeat for 2022-23. I think they could be a playoff team, but I also think they take a step back before making a leap forward into the Matthew Tkachuk era.
Kent Hughes will win the trade deadline
The Canadiens are going to be terrible by design this season — frankly, if they're not, that's going to be the disappointment. Team president Jeff Gorton famously turned the Rangers around quickly after their declared rebuild, and general manager Kent Hughes is likely going to be aggressive in doing the same in Montreal.
From pending unrestricted free agents like Evgenii Dadonov and Sean Monahan to players with terms like Josh Anderson and their veteran defensemen, I think the Canadiens continue to ship out relics of the Marc Bergevin years while Hughes/Gorton continue to rack up the (off-ice) wins.
D.J. Smith will be the first coach fired
There are some interesting candidates for first coach out the door this season. Anaheim's Dallas Eakins had his one-year option picked up last season by a general manager that didn't hire him. New Jersey's Lindy Ruff seems like almost too easy of a choice, given that he's in his last contract year and Jack Adams finalist Andrew Brunette is now on his bench.
But Smith has been in Ottawa for three seasons, and this is the first time there are actual expectations. Claude Giroux and Alex DeBrincat are there. A slew of young talent is maturing. If they stumble early, I could see Smith taking the fall despite being signed for one more season beyond this one, especially given some of the candidates looking for head-coaching gigs. He's done well to build a culture there, but at some point the wins have to start arriving.
Anthony Cirelli will win the Selke Trophy
Patrice Bergeron got his flowers last season, winning the Selke for an NHL-record fifth time. The door should theoretically be open to another defensive forward to capture the prize. Aleksander Barkov and Ryan O'Reilly, who finished in the top 10 last season, both have previous Selke wins. Elias Lindholm, last season's runner-up, lost both of his linemates on the Flames, so let's wait and see there.
Cirelli, meanwhile, just had three straight postseasons of coach Jon Cooper hyping him as one of the league's top defensive forwards, including a playoff run that saw his line dominate some Eastern Conference offensive stars. He's finished fourth and fifth for the Selke before. He'll break through this year.
The Leafs will win a playoff round
Look, "winning a playoff round" would not be considered a bold prediction for any team other than one that hasn't done so since "Eternal Sunshine of the Spotless Mind" was in movie theaters. That was a film about desperately trying to erase emotional trauma from one's mind in the hopes of moving on. The Leafs winning a playoff series will have a similar effect.
Metropolitan Division
Carolina will make the Stanley Cup Final
In acquiring Max Pacioretty, the Hurricanes started addressing the fatal flaw of previous postseason runs: finding that player to score that goal they need at that time. For example, the Canes have played 20 one-goal playoff games since 2018-19. They've lost nine of them (.550 winning percentage). The Lightning have played 39 one-goal games in that span and lost 15 of them (.615). Finding that goal makes all the difference.
Between adding Pacioretty and Brent Burns, along with the growth of players like Sebastian Aho and Seth Jarvis, I think they finally break through.
Cole Sillinger centers Johnny Gaudreau and Patrik Laine
It's not a guarantee that free agent prize Gaudreau and goal machine Laine are going to click. Please recall Phil Kessel was acquired by the Penguins to be Sidney Crosby's linemate. While the media debated whether he'd score 40 goals on Sid's wing, the two rarely played together during Phil's run in the Steel City.
But assuming Johnny Hockey and Patty Lines mesh together, they're going to need a center. Boone Jenner gets the first look. Jack Roslovic will get consideration. But in the end, it's the 19-year-old Sillinger who gets the assignment — and the statistical benefits — in between the star wingers.
Jack Hughes will play 80 games, eclipse 100 points
Hughes averaged a career high 1.14 points per game and 3.5 points per 60 minutes last season, his third in the NHL. Unfortunately, his career high for games played is just 61, which he set as a rookie in 2019-20. Whether it's under Lindy Ruff or a waiting-on-the-bench Andrew Brunette, the Devils have a chance to be something special offensively this season, thanks to the maturation of their young forwards, the addition of Ondrej Palat and a healthy Dougie Hamilton.
If their power play can be better than 28th in the NHL, if his linemates continue to excel and if — huge, giant, Costco-sized box of "if" — he can stay healthy, Hughes becomes the Devils' first 100-point player in franchise history.
The Islanders will return to the playoffs
The Islanders were last season's biggest disappointment, going from back-to-back conference finals appearances to outside the playoffs and turning UBS Arena into the world's worst housewarming party.
Outside of firing Barry Trotz and acquiring Alexander Romanov, GM Lou Lamoriello did little to flip the roster. But there were mitigating factors, like the 13-game road trip to start the season that led to an 11-game winless streak that sunk the season. Like shooting a pathetic 6.6% for the first 24 games. They still have the goaltending. They still have Mathew Barzal — for now. They still have enough for a wild card.
Patrick Kane will be traded to the Rangers
The New York Post has been trying to manifest this trade into existence the moment it appeared Kane was undecided about remaining in Chicago for another rebuild.
I'm not sure there's another team that could ante up the picks — thanks to the Nils Lundkvist trade, the Rangers have their own and Dallas' first-rounder in 2023, although the latter is lottery protected — or the prospects to the Blackhawks for Kane. At least one that Kane would want to play for as a rental; he's got a full no-movement clause. We'll assume he'd be OK with lining up across from Artemi Panarin again as a Ranger.
Travis Konecny will be traded
There are a few players on the Flyers roster that are in their "level up or get out" seasons. Ivan Provorov is one. Konecny is another.
I think players like Provorov and goalie Carter Hart are going to benefit from John Tortorella's system, as defensemen and goalies have in nearly every stop he's made in the league. I think a player like Konecny — youngish, two years removed from his best season, signed for three more — is the kind of player Torts makes an example of before he gets flipped at the trade deadline. And the Flyers can afford to deal away a right wing, from a depth perspective.

Rickard Rakell gets a Sidney Crosby glow-up
For a few years, Rakell was one of the more desirable trade options in the NHL, not just for his consistent offense with Anaheim but for his contract value. He's now making $5 million against the cap for the next six seasons in Pittsburgh, a contract that surprised some, considering the team hadn't yet brought the band back together.
But if Rakell ends up playing with Sidney Crosby and Jake Guentzel, that deal could end up being a bargain. Sid's line with Rackell last season outscored opponents 11-1 in 89 minutes of ice time. His previous offensive highs are 34 goals and 69 points. I think there's an outside chance he tops the latter.
The playoff streak will end
The Capitals have made the playoffs for eight straight seasons. They've posted a regular-season points percentage of .610 or better during that stretch. They added Darcy Kuemper, fresh off a Stanley Cup win, to improve their goaltending, which was their weak link last season. They made moves to reduce the impact of Nicklas Backstrom's injury loss, and should get the injured Tom Wilson back by December.
And yet … I think this is the season they fall slightly short. The division and the conference will be more competitive. Father Time stalks the team. This feels like a last-week-of-the-season-stumble before an offseason of significant change: The Caps have 11 players under contract for 2023-24.
Central Division
The ASU experience turns the Coyotes 'face'
The Coyotes are low-key one of the NHL's biggest heels and/or villains. Canadian fans think they should have relocated after their first Glendale city council meeting. Other fans are embarrassed by their shameless roster pruning in an effort to secure the first overall pick. And then there's the fact that the team will play at least the next three seasons, and potentially a fourth, in a college hockey arena that seats 5,000.
But it's that environment that's going to turn these heels into heroes, aka "faces." The atmosphere is going to be like seeing a stadium band in a club. It's going to be impossible not to get caught up in the "Hey kids, let's put on a show!" enthusiasm. By gawd, the place is called The Mullett Arena. "Tonight, there's hockey at the Mullett …" By December, the Coyotes will be the NHL's pet team.
The Blackhawks will win the NHL draft lottery
Sometimes one era ends and another begins in the NHL, without interruption. The Penguins went from Mario Lemieux to Sidney Crosby. The Rangers went from Henrik Lundqvist to Igor Shesterkin.
The Blackhawks will go from Jonathan Toews and Patrick Kane to Connor Bedard. They will be back on television and populating outdoor games. They are, as Thanos was, inevitable.

Pavel Francouz will outplay Alexandar Georgiev
I'm a regular Frankie fan. He won six of his seven playoff appearances during the Avs' run to the Stanley Cup in relief of Darcy Kuemper. The only appearance he didn't win was a no-decision after replacing Kuemper in Game 3 of the Stanley Cup Final, where he stopped 10 of 11 shots. Maybe it's the Kuemper Truther in me, but I think they still win the Stanley Cup if Francouz is their primary playoff goalie.
Outside of last season, Georgiev was good in New York. He's younger than Francouz and now makes more money than the 32-year-old goalie. But over the past three seasons, Francouz has 24.2 goals saved above average in 55 games vs.12.6 goals saved above average in 86 games for Georgiev. The vet may not end up with the majority of the starts, but I think he turns in better play.
The DeBoer effect will carry the Stars to the playoffs
There are five teams in the Central Division alone that can legitimately stake claims on playoff spots, and that's without knowing what Winnipeg ends up becoming. Dallas made the cut last season with a .598 points percentage — its highest in seven years — and then swapped Rick Bowness out for Peter DeBoer.
Here's what Pete does best: win in Year 1. He led the Panthers to just their third 90-point season in franchise history. He led the Devils and the Sharks to the Stanley Cup Final. He made the conference finals in Vegas. If Jason Robertson rolls again, Jake Oettinger continues to improve and the loss of John Klingberg isn't too severe, there's no reason to believe DeBoer won't have more first-season success in Dallas (and then get fired within the next two to three seasons, as is tradition).
The Wild will add an impact forward early in the season
We won't have to wait long for this prediction. The Wild saw a lot of offense leave with Kevin Fiala, traded to the Kings. They have more than $5.7 million open cap space. There will be team scrambling to shed salary before the season. There will be teams looking to shake things up inside the season if they stumble early. I think the Wild swing a deal. It's just a matter of who and when.
Ryan Johansen will regress, Matt Duchene will not
Both centers had considerable bounce-back campaigns for the Predators in 2021-22. Duchene led all Nashville forwards with 43 goals and 86 points. Johansen had 26 goals and 63 points, his best numbers in four seasons.
Duchene's spike had a lot to do with his line: Filip Forsberg and Mikael Granlund combined with him to average 4.27 goals per 60 minutes at 5-on-5. Duchene's shooting percentage (18.9%) was in line with previous strong seasons. Johansen, meanwhile, shot 22%. That ranked him first among all NHL forwards with at last 100 shots. And that, friends, is unsustainable. Duchene might not hit 40 goals. Johansen is certainly not hitting 22% in shooting percentage.
This is Ryan O'Reilly's last season in St. Louis
The Blues have three notable unrestricted free agents next summer: center Ryan O'Reilly, the team's captain; Ivan Barbashev, a 26-year-old forward who broke out last season; and Vladimir Tarasenko, in the final season of an eight-year contract and coming off one of the most emphatically resurgent years in recent NHL history. (Like, seriously, he should have dropped his stick and belted out "I'm Still Here," from Stephen Sondheim's "Follies" at the end of the season.)
But on top of those contracts, the Blues have added $10.65 million to their cap with new contracts for Robert Thomas and Jordan Kyrou beginning next season. Conventional wisdom says they keep two of the three UFAs. Barbashev is probably one of them, leaving us with Tarasenko and O'Reilly. So here's the bold prediction: GM Doug Armstrong keeps the Tank and lets his captain walk. Just like he let captain David Backes walk to Boston at age 32. Just like he let captain Alex Pietrangelo walk to Vegas at age 30. It's tradition.
Rick Bowness vs. the Jets' core is this season's best drama
I underestimated you, Rick Bowness. Here I thought the 67-year-old backup plan to Barry Trotz would come back to Winnipeg to preside over the status quo.
Instead, he strips Blake Wheeler of the captaincy and sends a shot across the bow of the leadership group that's been ineffectively running that locker room for the last few years. Wheeler, Mark Scheifele, Kyle Connor and others just watched a new teacher walk into the detention room, and he wrote "how to defend" on the chalkboard. Meanwhile, Pierre-Luc Dubois is in the corner looking at Montreal ZIP codes on Zillow. Good times.
Pacific Division
Trevor Zegras will cause a rule change
I feel like Season Two of "The Trevor Zegras Show" can go one of two ways: He invents another YouTube-esque scoring play that angers the hockey establishment to the point where it immediately bans the move; or the NHL grabs its skateboard, turns its hat backward, says "Hello, fellow Gen-Zers" and tweaks the rules to allow more offensive creativity from players like Zegras. Like allowing pucks off the netting to be in play or some such.

Jonathan Huberdeau outscores both Johnny Gaudreau and Matthew Tkachuk
… Combined! Just kidding. There are bold predictions, not deranged ones.
Over the past three seasons, Huberdeau has a higher points per 60 minutes (2.7) at 5-on-5 than either Gaudreau (2.58) or Tkachuk (2.49). He has been a model of consistency with the Panthers: goals per 60 over 1.0 in each of the last six seasons and clearing 2.4 assists per 60 minutes in four straight campaigns.
Tkachuk gets to play on that explosive Panthers team next to Aleksander Barkov. After his separation from Tkachuk, Gaudreau will line up with another elite offensive talent in Patrik Laine. Those are advantages that Huberdeau won't have, but I'd argue he's a better offensive player than either former Flame — and the numbers in the end will reveal as much.

The Oilers will make the Stanley Cup Final
This is putting a lot of eggs in Jack Campbell's basket as the Oilers goalie. This is saying that the improvements Jay Woodcroft made to the Oilers' overall play we saw after he took over last season continue. This is saying that the top nine forwards are as good as they look on paper, and that Leon Draisaitl isn't being kept together by Scotch tape and prayers by the third round of the playoffs like last season.
Put two generational talents on the same team and they'll get to the Stanley Cup Final eventually. It only took Sid and Geno three seasons. It will have taken Connor and Leon a few more. But they'll get there.
The Kings will win a playoff round
Making the playoffs last season for the first time since 2018 was so important for the Kings. It provided proof of concept for GM Rob Blake. It gave the 11 players 25 years old and under their first postseason tastes.
The Kings added Kevin Fiala in the offseason to a potent mix of forwards. They'll get defenseman Drew Doughty back. They hopefully get a bounce-back campaign from goaltender Cal Petersen. They're in the sweet spot of young stars and veteran standard-bearers. Fun times in L.A.
Erik Karlsson will have his best season as a Shark
I realize the bar is low here. This essentially means Karlsson plays 57 games, has a points per 60 minutes average north of 2.1, and improves on his pedestrian underlying numbers.
But with Brent Burns in Carolina, EK's the man on the blue line now. Plum power-play minutes. Better opportunities at 5-on-5. If he can find chemistry with a defenseman like Mario Ferraro, it'll be a renaissance campaign. Within context, of course.
Matty Beniers will win the Calder Trophy
Based on the early odds, Beniers isn't the favorite to win NHL rookie of the year. That designation goes to Ducks rookie center Mason McTavish and Beniers' former University of Michigan teammate, defenseman Owen Power of the Sabres. That's understandable: McTavish is a Gen Z Mark Messier, while Power is built like a marble column but skates like Erik Karlsson.
But I like Beniers as the first Kraken player to wrap his tentacles around an NHL award. He looked NHL-ready in his brief time with Seattle last season, not to mention his poise in the NCAA and for Team USA in the Beijing Olympics. He's also going to be flanked by some really strong veteran wingers — Oliver Bjorkstrand, Andre Burakovsky, Jordan Eberle, Jaden Schwartz and Jared McCann are among the options. Plus, he looks and acts like he should be headed into his NHL prime rather than his first season.
Thatcher Demko will lead all NHL goalies in appearances
Demko played in 64 games last season for the Canucks, trailing only Juuse Saros (67) and Connor Hellebuyck (66) in games played. His backup last season was Jaroslav Halak. His backup this season is expected to be Spencer Martin, who has nine career NHL appearances — although, in fairness, he played well in six games for Vancouver last season.
I know the Canucks have made noise about reducing Demko's work rate, but I don't buy it. They need to ride him if they're going to vie for one of the scarcest resources in the NHL: a Western Conference playoff spot. They should play him in 83 games. Yes, I'm saying they should petition the league to add a game to the schedule so Demko plays even more.
The goaltending is fine, and the Golden Knights return to the playoffs
Logan Thompson, Laurent Brossoit and Adin Hill aren't going to win you the Stanley Cup. They're the worst goaltending group Bruce Cassidy has coached in the NHL since he had a past-his-prime Olaf Kölzig and four randoms on the 2003-04 Capitals.
But they'll end up in the 18-22 range in team save percentage, and watch the team in front of them play well enough to secure a wild-card spot. And if it doesn't work out, then maybe we need to burn some sage around Jack Eichel, because his playoff drought is officially ridiculous.
From the land of Barclay Goodrow:
Erm @FanaticsSupport I think there's something wrong with my shirt that I ordered… plz help pic.twitter.com/QqngdU9zpM
— ak (@ItsAllGoodrow) June 25, 2022
We can only assume this Shirsey is in reversible teal to cover all of Goodrow's NHL tour stops.
Video of the week
Fare thee well to P.K. Subban, Keith Yandle and Zdeno Chara, who all retired this week. Three incredible defensemen who all left their marks on the NHL.
2dRyan S. Clark, +2 More
3dGreg Wyshynski
4dESPN staff
2 Related
In the case of Yandle, in being the league's greatest iron man among defensemen. In the case of P.K., the greatest combination of talent, personality and swagger this side of Alex Ovechkin in his generation — not to mention boundless philanthropy off the ice.
Then there's Chara. Like the Sedins, I don't think we'll ever see anyone like Chara again in hockey. A 6-foot-9 mountain who could skate well and put up 50-point seasons. The only player in NHL history who could end you with one punch while learning multiple languages and studying for his real estate license.
Here's" frameborder="0″ allowfullscreen> a delightful video of Subban and Chara at Harvard Business School. Thanks for all of it, fellas.
[embedded content]
Puck headlines
I don't know, I wasn't feeling the Brandon Tanev photo day pic this year. It had an "Austin Powers in Goldmember" level of comedic wear.
Will the Seattle Kraken or Vegas Golden Knights win the Stanley Cup first?
Good piece here from Travis Yost on potential breakout candidates. Would love to see Blake Coleman hit his marks in Calgary.
Arpon Basu on Subban: "It was off the ice where he was seen as being problematic, as too big a personality, too focused on his brand, too brash, too much of a self-promoter, and that ultimately led to him leaving his childhood team far sooner than he would have liked. But it was also off the ice where Subban registered the biggest win of his NHL career."
Hey, remember goalie Scott Darling? He's now a standup comic.
The Toronto Maple Leafs have chosen milk as their jersey ad sponsor. I probably would have shied away from anything with an expiration date. But at least it wasn't golf.
Good breakdown of the PHF schedule here.
Finally, here are Pat Maroon, Ryan O'Reilly and [checks notes] Ric "The Nature Boy" Flair in a new commercial. The best part of this, by the way, was Maroon tweeting what the publicist gave him to tweet, and not removing the quotation marks.
From your friends at ESPN
What Nathan MacKinnon's contract means for the Avalanche and Auston Matthews' next deal.
Source: ESPN NHL